Homecoming 2022 a Success!
It was a busy first couple of weeks in October at Toiler Town in preparation for the Homecoming game and dance. Manual Arts held a pep rally on Friday, October 7, 2022. Then came the actual game with a parade on Friday, October 14th followed by the Homecoming dance on Saturday, October 15th. Yes, that's a lot! And everyone came through to make it a memorable Homecoming dance.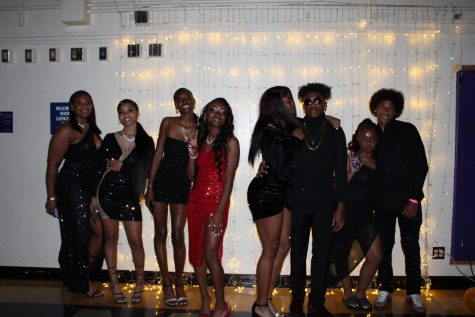 If you bought a ticket for Homecoming, you were most likely a little nervous as the weather was looking hazy on Saturday morning. 
"I honestly thought it was going to be canceled," said Emily Vega, a senior at Manual Arts High School, "so I was glad to receive text messages from Leadership students letting us know that they were moving the dance to the big gym."
According to Ms. Contreras, it was finally approved by administration to have the dance in the big gym. So Ms. Contreras and Mr. Sosa went on work-mode to mobilize Leadership students to help with the move.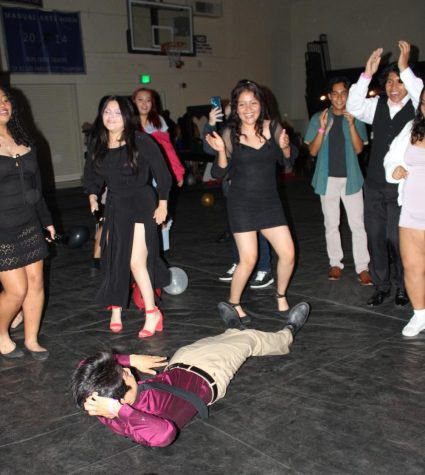 "We were at the school from 9:00am to 3:00pm setting up tables, lights, sound system, tarps on the gym floor, and the beautiful Alice in Wonderland decorations," explained Ms. Contreras, the Leadership and Health teacher at Manual Arts, "Our students are super-creative, especially Stephanie Gamez, who created a cute Alice in Wonderland White Rabbit prop." 
Believe it or not, all the Alice in Wonderland props were handmade by students. The props included Alice in Wonderland playing cards, arrow signs, balloons, picture frame, and the white rabbit. 
When the lights were turned off within 30 minutes of opening the entrance door, there were already dozens of students who screamed to show excitement for the real fun to begin as the music kept playing. 
"It was a nice school dance vibe," said Stephanie Gamez, a senior at Manual Arts, "and the decorations were sooooo cute."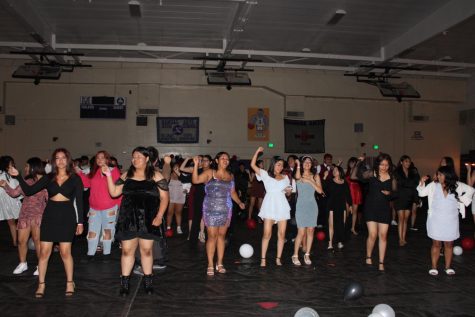 Although the majority of students experienced a great vibe, there was a problem that emerged about the music selection. 
"At the beginning, I didn't feel any type of way," said Reniya Thornhill, a Junior at Manual Arts, "but toward the end it started to feel a little weird because all the songs started to sound the same, and I couldn't even understand the lyrics."
This is understandable because if a person is not used to listening to a type of music, it is difficult to authentically enjoy some songs.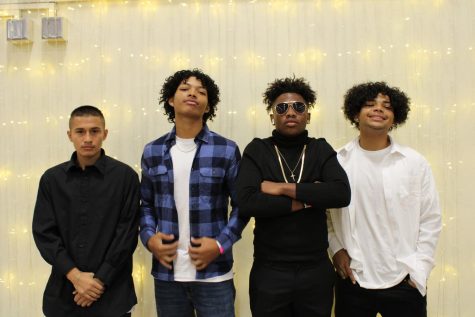 Kayla Thomas and Simone Taylor, two Juniors who also attended the dance, also agree that there can be a solution to this problem.
"I feel like the people that bought tickets should be asked for their opinion on their music choice. That would have been a smart idea," said Reniya Thornhill.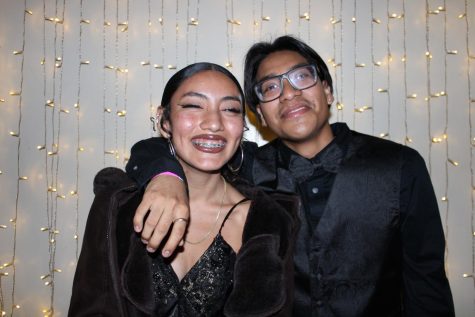 This is exactly what is happening with the upcoming Movie Night, which will occur on Friday, October 28, 2022. For Movie Night, according to Evelin Mendoza, a senior in Leadership, students who buy tickets are provided a QR code so that they can vote for the movie that will be shown. Movie Night is scheduled to occur on Friday at 6:30pm in the football field. The tickets cost $5.00, and they can be purchased from any Leadership student or from Ms. Contreras in room 184. It should be fun!
As for the Homecoming, at the end of the night it was clear that everyone enjoyed themselves, including during the announcement of the King and Queen. It was fun and exciting to witness the coronation of Marco Aldana as the Homecoming King and Zoila Vasques as the Homecoming Queen.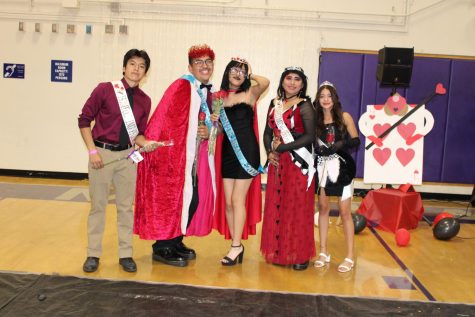 You can check their picture in the gallery below, along with dozens of other pictures demonstrating that Homecoming was, in fact, a success. Shout out to Emilyn Moreno and Ms. Duke for being the photographers for the event. 
View Comments (16)