Let's Be Dramatic!
Rooting for "Hey, Look At Me!"
"Hey, Look At Me!" That's actually the name of our Drama/Improv club, which Mr. Simbulan is in charge of. Students from different grades are encouraged to join. This is Mr. Simbulan's first year at Manual Arts High School, and he has already "created great chemistry with the students, and this is why students have joined the Improv Club," says Senior Carlos Alvarado, President and founder of "Hey, Look At Me!" Carlos is captured in his statuesque pose wearing green and black below.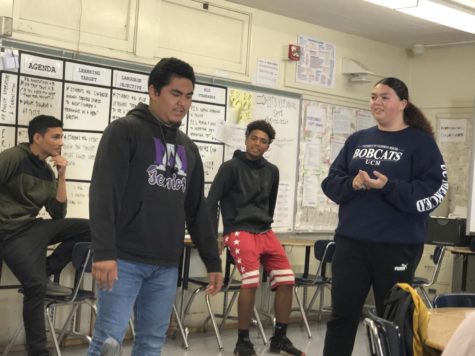 Students are rooting for Mr. Simbulan to become the drama teacher next year. Mr. Simbulan is qualified for this position because he has a degree in English and theater. And most importantly, he has a passion that is radiant. You can feel the energy when you walk into his classroom.
From first hand experience when we went to see the Improv Club perform, we were able to see the spark in the eyes of the students while they were performing. You can see how passionate the students are when changing characters or switching scenes. You can see how the audience is just laughing and enjoying the moment.
Carlos Alvarado's brothers have all attended Manual Arts, so he's trying to do his best to keep the arts at Manual Arts High School because he feels like "the arts have been neglected." We greatly appreciate his work for recruiting underclassmen and by making sure that this club becomes an actual class. 
The Improv Club has even helped students with their public speaking skills like stage presence and body language. "It actually helped me to present in front of class, and I regret not doing drama before," stated senior Kiana Salgado, wearing Bobcats sweater and sporting awesome hair. 
Senior Renaud Martinez, wearing black and red and 101% funny, joined to try something new and step out of his comfort zone. "You never know where you could find success if you don't step out the zone, and Drama club helped me a lot with that."
The drama club has meetings every Wednesday during lunch and every Thursday after school in Mr. Simbulan's room, which is 282. We're looking forward to seeing what Mr. Simbulan can direct and produce on the Manual Arts stage next year!
Leave a Comment