Unforgettable Season for Our Football Team
In the beginning, one thing that was present was the pride and brotherhood. As the season continued, the pride did not fade but only got stronger. At the end, all team members huddled up and continued to be proud of being a mighty Toiler.
So where does this perseverance come from?
I remember at the beginning of this road when it included Manual Arts football losing their winning streak against Santee High school, but the defeat didn't phase them at all.
They stood honorably, continuing to smile while walking to their lockers. The next day, I saw them practice like they normally do, same drill, same people, but it seems like they were working even harder than before. It didn't just phase them but just added more fuel into their fire of motivation. So what keeps people motivated even when they lose?
I remember when I was in the 7th grade I used to play goalkeeper in a soccer team. During a game, I had done many mistakes that cost us the game. We ended up losing 3 to 0. My parents just told me to try harder and practice harder so I could do better next game. This is something a parent would say. But my grandpa, a soccer fanatic, would keep repeating the following words: "you guys played like there was no keeper at all."
Remarkably, it didn't affect me at all because that's how my family is. I didn't take it as a rude comment, rather it was a way to keep me motivated.
I wanted to know what kept the football players motivated, so I went to Christian Solorzano, corner defensive back. He said that Coach Horn is his source of motivation.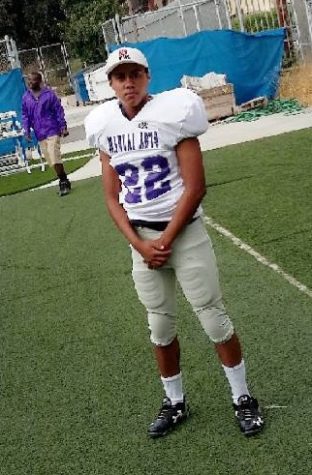 "If it aint in your mind, it never happened" are the words of coach horn to empower his team. Christian truly believes that "if we never envision ourselves with that championship ring then it will never happen. We first got to visualize our goal and then work towards the goal to achieve our goal. In order to ever do that, we first have to envision ourselves."
They envisioned themselves going to the playoffs. So, Manual Arts finished their league game with a big BANG!!
They defeated West Adams High School 56-3 on October 26. With the win, they qualified for the first round of the CIFLACS football playoffs.
The first match of the round of 16 was against Francis Polytechnic Senior High on November 2nd. They won against Poly, 42-7.
Then they headed to quarterfinals to face against Gardena High on November 9th. They won, 21-12.
All they needed was to win one game to head to the finals. But the only obstacle in the way was Santee High school. On November 16, Santee is the one who took it all the way to the finals.
As a sportsman, I know how it feels to lose. In a soccer game, we practice the tradition of lining up and acknowledging the other team for a good game. Yes, the losing team is upset. But as an athlete, we have to be respectful and accept the defeat. We must work harder next year.
The football team envisioned themselves winning their first playoff game and continuing to go up the ladder to reach the finals. Just because they didn't make the vision into reality doesn't mean they give up. It just means to visualize it harder with more great success. Seniors won't be here next year, but all they can do is pass on the dream and make sure the players after them know how to make it into a reality.
Honestly, Coach Horn has made an impact on me, too. I understand what he is saying. I truly believe that coaches around the world in all sports should give this type of motivation to boost the perseverance of their players. So where does perseverance come from? Our coaches in life.
As a fellow athlete, Coach Horn's words inspired me and gave me motivation to do my best as a goalkeeper. Yet, his advice isn't just for athletes. It's for anybody in any age that has any dream.