PLANTing for the Future
Hang on for a minute...we're trying to find some more stories you might like.
It's a Saturday morning in South Los Angeles. Most high school students are fast asleep and won't wake up until lunch time. The night before, these students were at the movies, hanging out with friends, at kickbacks, enjoying their Friday night freedom. But drive by Vermont Ave. and 42nd Street around 8 a.m and 30 of these same high school students can be found in the school garden, tending to the fruit trees and vegetable boxes.
In 2006  biology teacher Guadalupe Bermudez and Penelope Aguilar initiated the Environmental Club at Manual which was to empower students to be more conscious about their local and global environments. Members of the club were tasked with beautifying the campus and developing the school's garden.  
The club did not receive much financial support at first. They purchased tools and a few plants with the money they had in their pockets. They also purchased recycling bins for classrooms so that students could collect cans and bottles and earn a few dollars. Additionally,  Aguilar received a garden grant which allowed the club to purchase more plants and supplies.  A second grant came from LA's Promise Fund, an organization that partners with Los Angeles Unified School District schools to bring engaging programs on campus. With the proper funding and 30 environmentally conscious students on board, the garden began to flourish.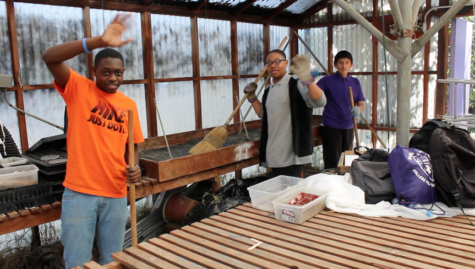 Within two years, an area that was once covered in dirt, leaves and trash was transformed into a beautiful green sanctuary. Fruit trees, vegetable boxes, benches and sunflowers filled the space. It was an oasis in the middle of South Central. Students experimented with different fruits and vegetables, tested soil composition, used water conservation techniques, and harvested their fruits and vegetables. Besides there being an edible garden, the students also created different biomes within the space which served as a hands-on teaching tool for biology classes.With the burgeoning garden taking shape, many in the school and community started to take notice. The garden even caught the attention of actor Jake Gyllenhaal, who visited the garden in 2009. "He was part of an organization that promoted green spaces and we had this empty space that we had transformed into something great," said Bermudez.
But with time, it became more and more of a challenge to maintain the garden. Students got involved with other organizations and clubs, and the green space started to slowly fade back to brown. "Unfortunately we couldn't find any other teachers to take over the garden and students eventually graduated and we weren't able to get a group of kids that were able to stay after school and put enough energy into the garden," explained Bermudez. For the next few years the garden was forgotten. The Los Angeles Unified ground crew would visit occasionally to whack the weeds and trim the trees, but that was the extent of the care.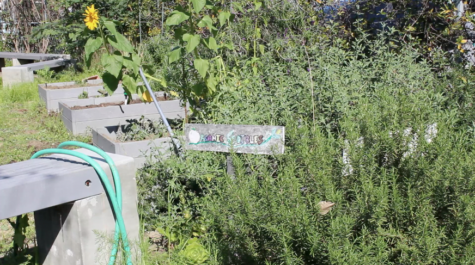 However, this past year, the space started to get a little more attention. Ms. Bari Applebaum, a new biology teacher,  and a few of her students, decided to bring the garden back to life. With a some time and TLC the gates of the school garden were reopened and the space started to become the green, beautiful and  peaceful place it once was.
"I was interested in taking over the garden because I think it's very important for students to understand the importance of healthy and sustainable eating," said Mrs Applebum. With some financial support from LA's Promise Fund, the team has started growing zucchini, squash, strawberries,  peppers and much more. Before the students could start planting, they spent a lot of time cleaning the space and removing the weeds. "The garden was really messy and full of trash when we first went in there," said Applebaum. "The work was not easy, but the students were determined to get it done."
Junior Chelsea Melendez,a member of the environmental club, has committed a great deal of time to this endeavor. She understands the value of green spaces and sees its potential in bringing the community together to work towards a common goal. Students who are interested in participating in the club should contact Ms. Applebaum.