Saving Lives One Pint At a Time
Even During Coronavirus Pandemic
I remember sitting down with one of my uncles, Boty, when a commercial from St. Jude Children's Research Hospital came on. My uncle Boty donates money to kids that are in that same hospital, and he started talking about kids my age who are close to dying because they have health conditions like cancer. 
We spent the whole day talking about things we can do to help kids who feel like they have nothing left. We talked about donating money, hair, time, and blood. 
"Chilindrina, you should be grateful for everything you have," Uncle Boty told me, "especially your health because those kids wish they were healthy like you are right now." 
I knew he was right, and that's when I realized I wanted to help out.
I was twelve when I decided to donate my hair, but I felt that was not enough. I did my research and found out that I had to be at least 16 years old to donate blood. After four years of sending "Get Well Soon" letters to patients at different hospitals, I was able to donate blood. Unfortunately, it took me one more year to convince my mom to take me to a location to donate blood. But when I moved to Manual Arts, during my junior year, the school had a blood drive. I knew it was the right time for me to donate. I filled out the forms, and when they gave me my appointment I felt like the happiest person on Earth. After 5 years waiting, I was finally able to donate with the American Red Cross. 
The American Red Cross is a humanitarian organization that provides emergency assistance, disaster relief, and disaster preparedness education in the United States. The Red Cross is always looking for people to donate blood, so they can help others. According to the Red Cross, 38% of the population is eligible to donate but less than 10% actually do.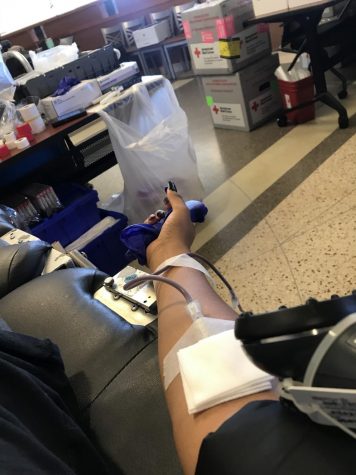 I believe that people do not donate blood because they are not properly informed about the whole process. Many people hear one negative comment about blood donation, and they immediately shut down. Consequently, they will believe that blood donation is a negative experience. I also believe that people do not donate blood because they are not the ones that need the blood. Many people wait until their family is in need to take action, and that's when they realize that blood donation is important. The truth is that we need to have more empathy towards each other, even when it means to care about complete strangers. 
Based on research done by University of Maryland Medical Center, the top 10 reasons why someone does not donate blood are the following:
#1: People are scared of needles
#2: Individuals don't have enough time.
#3: People are not informed about the need for blood.
#4: A person only donates one time.
#5: People are afraid of getting AIDS.
#6: A person may believe that his or her blood is not the right type.
#7: People may think they don't have enough blood to donate.
#8: A person may believe that he or she might have some negative effects after donating.
#9: People may believe their blood is not wanted because they have had a illness or because they are too old.
#10: People with rare blood types may decide to wait until it's really necessary. 
A lot of people ask why they should donate blood and they respond, "I want to help others".
That is the reason why I donate blood. The donated blood and plasma is given to people who have serious injuries and have to have surgery. Also, the blood by mothers during complicated childbirths, people that have anemia, patients with blood disorders, cancer, and many other reasons.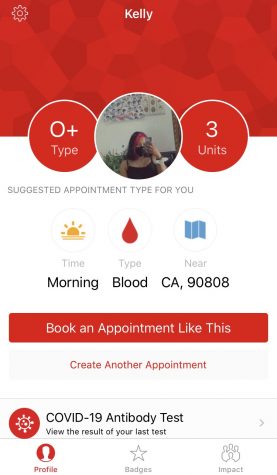 During the COVID-19 pandemic, the Red Cross is needing more blood than ever before. The need is a humanitarian need. When exposed to COVID-19, the body develops specific antibodies to the virus regardless if symptoms were developed. Research is still being done about the antibodies of people who've had COVID-19. It is unclear if their antibodies will provide immunity to future infection. 
Humanitarian to me means giving aid to someone in need. Being able to put people who are not doing well in front of yourself, and doing everything in your power to help them recover and get them back to health. I have always strived to live in that way, I will always try to help anyone that I see is not at their best even if I know them or not.
I have donated blood four times. Each time I donate the Red Cross has treated me with respect. Nurses thank you for my donation, and volunteers give me food and little trinkets (like the T-Shirt below) after donating. The only part that hurts is when the needle goes in. But once you get over that, everything is better. After donating, I felt like a better person because I know that the pint of blood I gave will help three people. My blood will go back to normal in six weeks. In all, donating plasma or blood will help someone who is in critical conditions, and one day you may be in need.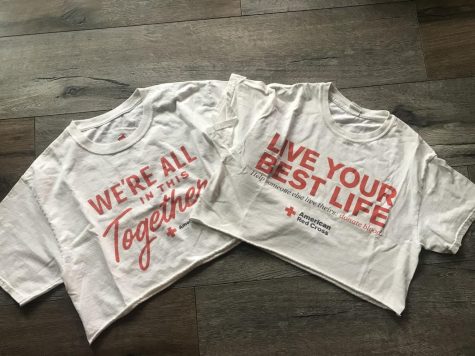 If you are interested in donating blood, please contact the Red Cross at 310 445-9908. Or you can visit their website at Redcross.org.