Supporting Our Chicas
Some of you may have visited the Manual Arts student garden or seen the fresh fruits and vegetables at our school's farmers market on Wednesday, February 12, 2020. The American Heart Association donated watermelon, kale, potatoes, eggplant, chamomile, rosemary, chard, lettuce, cilantro, jalapeños, and platanos (plantains).
Others may have heard about the fundraising drive to get clean water filters for our school. All of these efforts are being led by the Chicas Verdes program: a group committed to providing clean resources to the community.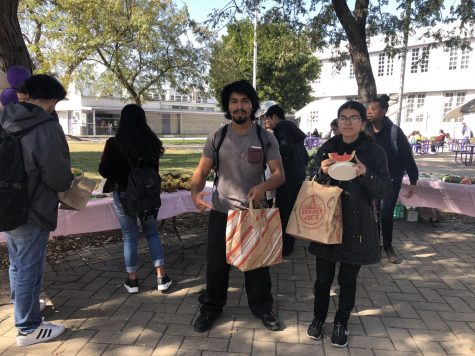 I sat down recently with the founder, ninth grade health teacher, Ms. Applebaum, who launched the program, to find out why and how she started this new initiative and explore the positive impact it has had so far on campus.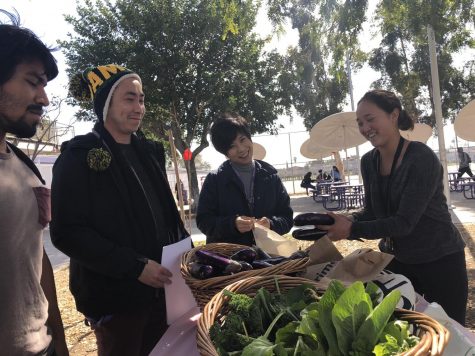 You can really get a sense that Ms. Applebaum enjoys gardening because gardening makes her "feel grounded."
"I was first introduced to landscape design by my grandmother," says Ms. Applebaum, "it both calmed me and brought me joy."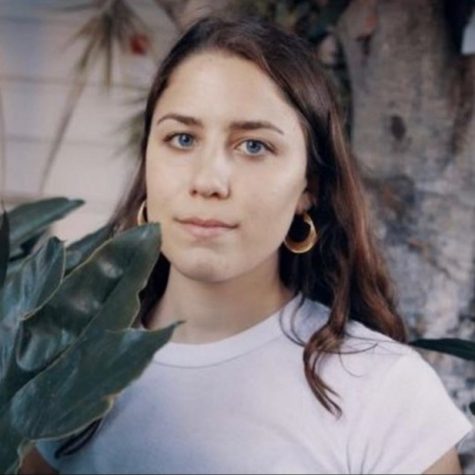 In fact, she started working at Manual Arts because she wants her students "to feel these same emotions as well." 
Chicas Verdes is made up of four branches. There is the Food Access Committee, which is in charge of the school garden and runs the farmers markets. There is the Branding committee, which is responsible for providing an accessible source of clothing for students. They rely on donated articles of clothing and give them away to those in need during the farmers market. Next is the Sustainability Committee. They are responsible for promoting, composting, recycling, collecting rainwater, and maintaining hydroponic systems. The last committee is the Marketing Committee, which is responsible for social media, website management, blogging, and community outreach initiatives. 
For anybody who would like to join the Chicas Verdes, you can choose to explore any of the four committees. 
According to Ms. Applebaum, over 100 students have been registered as members of Chicas Verdes. She also says that this group is responsible for planting 60 fruit trees, growing over 7,000 pounds of food, and donating over 30,000 pounds of food.
Chicas Verdes is currently on a campaign to improve the quality of water we drink at Manual Arts. They are raising money by selling Chicas Verdes water bottles. The goal is to sell 300 water bottles for $15.00 each. That's a total of $45,000 that they can raise for one water filter. Valerie Escobar already purchased her bottle and proof is below.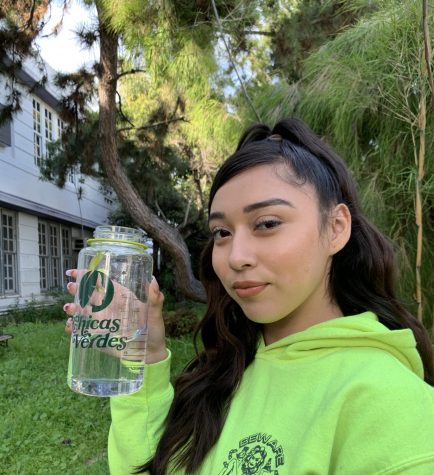 So far, I've been encouraged by the impact Chicas Verdes is having on  Ms. Applebaum's students and volunteers. I feel a sense of pride knowing that such a program exists here at Manual Arts High School. It's about teaching students lessons on sustainability and resources; I learned a lot from them.
Chicas Verdes' goals for 2020 are to expand to additional schools and to provide more students with opportunities to make a change in their own lives and in our community.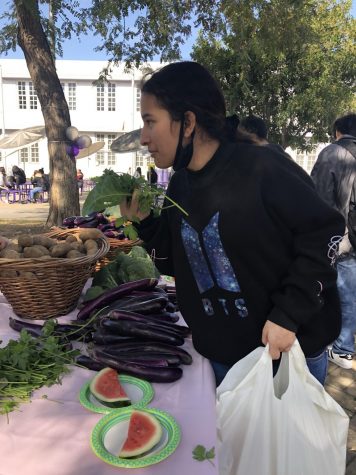 We can always support their cause by going to room 113 and buying one of the Chicas Verdes reusable water bottles. Money from these sales will go towards installing a clean water filter at school. You can also join the club directly as a volunteer. If you would like to learn more, you can message them on instagram or speak with Ms. Applebaum in room 113. Don't forget to follow the Chicas Verdes movement on instagram @ChicasVerdes.
Check out how Ms. Applebaum appeared in "Today in LA."